If you aren't familiar with the webcomic XKCD, go take a look now. I have been a huge fan for years, and find his comics relevant to many areas of life. Lately, I've been thinking a lot about this one: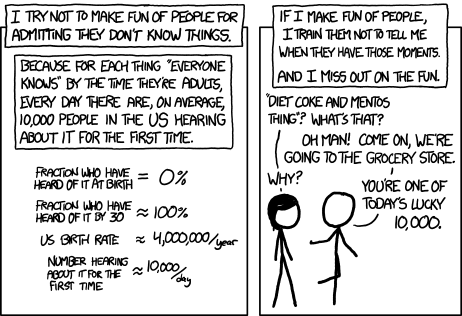 As a reference librarian, I get a lot of the same questions day in and day out. (I know that a lot of you can relate.) How do I find a book on my topic? How does the printing system work? Can you help me connect my laptop to the Wi-Fi here? Where is the bathroom? How does citation work? It happens in the classroom, too. How do I narrow these results down to scholarly journals only? What do I do if it says "no full text available"? Can I put a book on hold from off campus?
I'm going to take a moment to clarify that today, I'm not talking about the questions like, "I wasn't paying attention; can you show us how you got to that page again?" I'm also not talking about the same person showing up every single day to ask for help logging into their online homework system but they don't remember their own username and password, or where they wrote that information down when you helped them yesterday. I'm only talking about the questions that we answer over and over for different people every day, week, semester, and year.
Sometimes, I used to get frustrated or annoyed by having to answer, "Where is the classroom?" twenty times in a row for each individual student attending library instruction that hour, or showing different students how to find books over and over on the same three argument paper topics all week. And I see the same thing happen to my colleagues, especially during this time of semester, when midterms are gearing up and every other student we see is working on one of a handful of similar assignments.
But then I remembered this XKCD comic, and it reminded me of a few things.
One: We are here to teach people the things they don't already know. If students already knew how to find resources or write citations or even where the classroom is, what would they need me for at the reference desk?
Two: Everyone has to learn a thing before they know it. That sounds really obvious, doesn't it? To dismissively think, "You're in college, you should know this!" is to do your students a disservice.* It reminds me of all the times I've said I haven't seen a particular movie, and someone reacts with an overly dramatic gasp and, "But you're in your thirties! How have you never seen The Godfather?" It makes me feel guilty, like I've avoided that movie on purpose, instead of just not being shown the movie or being prompted to go find it and sit down and watch it. I know it exists (like a student knows the library exists), and I'm aware of several of the more famous scenes (like a student knows that libraries can help students with research); I just haven't watched it myself (like a student who hasn't used library resources or asked a question at the reference desk). A better reaction, in my opinion, is, "You haven't seen The Godfather? I highly recommend it. Here, borrow my copy, or let's watch it together this weekend." Or, in our case, "You haven't used the databases? They're really great, and I think they make it easier to find what you're looking for than using Google Scholar. Here, let me show you where to find them and how they work."
And that's the attitude I try to conjure up in myself three times per semester: week one, midterms, and finals. Because the student standing in front of me needs to find a journal article and does not yet know about the wonders of EBSCOhost, and they are one of today's lucky ten thousand.
*Side note: At some point, yes, you have to be able to say, "Didn't you ever have to write a paper before this point in your education?" But if they haven't, it's not exactly their fault. I do not present this as an excuse for learned helplessness or not doing the work. We just need to remember that we don't necessarily know a student's background or experience when they first approach the reference desk. My college has a lot of non-traditional returning students who may not have done this kind of work in a long time (and during the intervening years, the majority of the process has changed), a lot of students from underprivileged schools (who may have been focused on different priorities from citation and evaluating sources), and a lot of students who are not high academic achievers, and just want to fulfill degree requirements so they can learn a trade, so their English paper is not the high priority it is to some other students, who may want to transfer to a four-year university and major in literature. This "one of today's lucky ten thousand" concept does rely heavily on giving each student the benefit of the doubt, and not being discouraged by the ones who do ask the "I didn't listen to what you just said; can you repeat it verbatim?" questions.