ACRLog welcomes a guest post from Siân Evans, Information Literacy & Instructional Design Librarian at Maryland Institute College of Art.
"One of the hardest things to admit is that you're not doing okay. We want to be always glowing and effusive, charming and graceful but most of us hide little pits of darkness, ever growing and receding, in our guts." – A thing I wrote when I was 27, in a collection of essays called "Built to Last: A collection of essays on sex, love, and feminism that I liberated from my ex-boyfriend's blog," published by D.I.Y feminist press, Pilot Press
"I don't know how to be. I don't know if I'm a librarian, a career that feels like a calling to most. Librarian with a capital L. I'm not sure if I really like helping people that much." – A thing I wrote in my journal when I was 32, in 2015.
What is the relationship between these two things I wrote? I'm going to admit, right off the bat, that I'm not entirely sure. But, given that I'm writing an essay about mental illness and gendered affective labor, I'm going to take a cue from a gorgeous memoir written by an acquaintance of mine, and explore these things that weave in and out of each other for me all at once in a messy (but perhaps radical?) way.
(Mental Illness)
And that's the thing about feelings and what we call them, they're messy at best. In The Glass Eye, Jeannie Vanasco explores her various diagnoses and self-diagnoses, musing on how they often seemed wrong or even arbitrary. I've been diagnosed as moderately depressed and, in one case, a psychiatrist made an offhand, confusing but ultimately unexamined comment about the potential of borderline personality disorder.* I tend to side with a Foucauldian way of thinking: that all diagnoses serve the function of classification and, ultimately, control; i.e. "reign in those pesky women and make them productive!" And, besides, what do diagnoses really mean outside of the meaning we give them?** Do they ultimately do justice to the feeling?
Thankfully I'm not the first to write publicly about mental illness in librarianship, nor the first to note the gendered component of depression and anxiety disorders. That is well-documented. But I do think these are conversations that we need to continue to have, as hard as they are. And, especially in higher education because, as Lisl Walsh has pointed out, academia is "irreparably ableist" when it comes to mental health.
Anecdotally, I also know this need for discussion to be true. Over a glass of wine with a librarian friend, I cautiously mentioned that I was working on a very personal essay about mental illness and library instruction. She responded, "I'm basically your target audience." In a field of largely women, I imagine she's not alone.
(Pink Collar Labor)
So two things happened to me at once: I participated in Veronica Arellano Douglas and Joanna Gadsby's interview project on the gendered labor of library instruction coordination and I got really, really depressed. I'm not saying these two things are necessarily linked but I'm also not saying they're not linked. As bell hooks points out, in Teaching to Transgress: Education as the Practice of Freedom (and I'm paraphrasing horribly here): the moments in which you become aware of your own oppression and the oppression of others are often incredibly painful. And there's no going back. The veil has been lifted. So, we read. And we learn from what others have said before.
I've been doing feminist work for maybe my whole life but was only introduced to the concept of "pink collar labor," "affective labor" or "emotional labor" (oppression has many names!) in 2014, when I co-organized a series of speculative conversations at a DIY feminist gallery space in Brooklyn.*** I was aware of the genesis of the term, of The Managed Heart: Commercialization of Human Feeling, Arlie Russell Hochschild's seminal work on flight attendants and bill collectors. I knew what it meant: that in absorbing other people's emotions while suppressing your own for the benefit of an employer, you're doing an invisible form of labor that is affective or emotional, and largely gendered (hence "pink"). But I hadn't thought much about how it might affect me.
So I read more.
In reading one of the most canonical (if we can even use that term for such a niche field of study) articles on emotional labor in librarianship, I was struck by two things: (1) feelings and (2) names. The study describes the emotions expressed by librarians in reaction to the teaching experience as "ranging from joy and satisfaction […] to feelings of misery" (emphasis my own). I found myself coding the names of the pseudonymous librarians interviewed by whether or not they made positive or negative comments about their own teaching: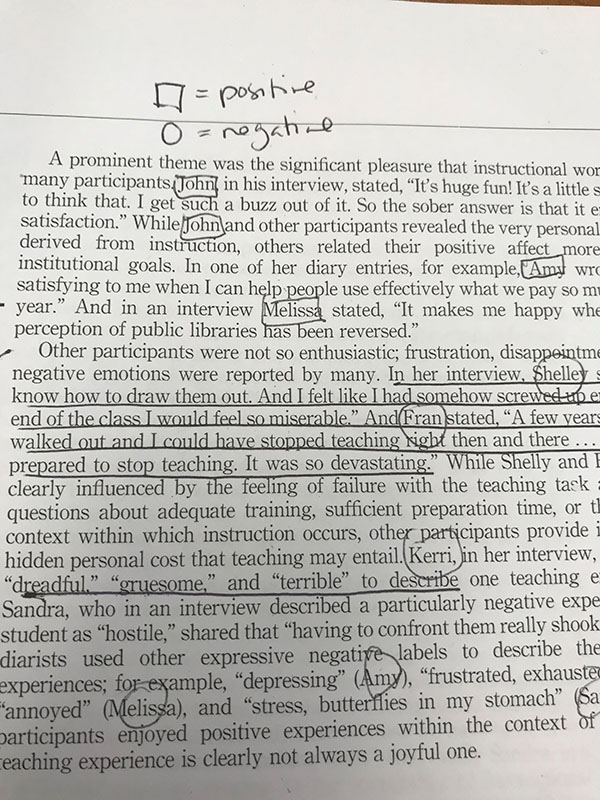 Steve and John, it seemed, were thoroughly impressed with themselves. While Kerri, Melissa, Amy, Colleen, Fran and Sandra had mixed feelings.**** I know that students' reactions to teachers are often gendered, which may also account for these highly critical self perceptions because when you're repeatedly told you're not as good, of course you don't feel all that good. And I also know that impostor syndrome in librarianship is real…
But I couldn't help but draw loose mental connections between the statistics on women's mental health and the affective labor of largely gendered professions, like librarianship, social work, nursing, and so on. But those threads are still so, so loose. And I'm not sure where they'll lead me.
(Time)
What I do want to explore is the potential for liberation. Always.
Emily Drabinski and Karen P. Nicholson have both written about the connections between the capitalist commodification of time and how the genesis of the term "information literacy" is rooted in neoliberal ideals of the university as a space of production. Nicholson, in particular, argues for an adoption of the principle of feminist slow scholarship to challenge this:
"Slow scholarship — which applies to academic work in the broad sense to include teaching, research, and service — resists the accelerated, fragmented time of the neoliberal university, along with its audit culture, intensified work order, and 'fast, take-way, virtual, globalized, download/uptake' pedagogies. Feminist slow scholarship seeks to re-envision the university itself by challenging structures of power and inequality and calling attention to the value (and toil) of academic labor." (p. 31)
So, back to the beginning. Back to feelings. In her take on surviving academia with mental illness, Walsh writes "Do I even have the right to write this story? is a voice in my head today, as I think about what I need to be doing on a Sunday morning to prepare for Monday…" Simply getting out of bed, reading an email, writing a sentence, let alone teaching can be a struggle for those of us who experience varying degrees of mental illness. When my friend Veronica interviewed me for her project, I told her it felt cathartic. I didn't realize just how wrong it had felt to admit that teaching took almost everything out of me sometimes, that students' blank stares, colleagues' insinuations that my feminist, critical pedagogical methods were futile, and just the sheer number of instruction sessions (57, roughly 50% of all instruction this semester) may precipitate bouts of depression.
What kind of liberation is possible? Critical pedagogy asks us to be vulnerable with our students, but what if we already feel so very vulnerable, as if some imaginary membrane between us and the world barely exists? Where is the space for a radical, open vulnerability in the increasingly neoliberal academic landscape? Walsh's suggestions for what inclusivity for academics could look like line up perfectly with the premise of slow scholarship. The one that stuck with me the most is simply acknowledging that academics (and librarians) with disabilities (of all kinds) exist. In meetings, in the classroom, in daily conversation. For me, this has involved being open about my feelings. It has also involved being intentional about making space for reflection as part of my teaching praxis, and demanding that that space be recognized as what it is: labor.
In other words, more of this. And more of this.***** Taking the time.
Notes:
*I attributed these perhaps unprofessional comments to my psychiatrist's problematic gender politics because some might argue that BPD is the new hysteria, in that 70-71% of those diagnosed are women.
**This is not to deny the usefulness of psychiatric medicine and of diagnoses (I benefit greatly from my access to mental health care), but rather to highlight that it is not a linear path from the (imaginary) Dark Ages to now but rather a complex social history that is peppered with scientific advances but also informed by patriarchy, white supremacy, colonialism, and many other structures of domination. There's SO much written on this, but you can start with Foucault!
***Epic thanks to my love Jacqueline Mabey for sharing her curatorial genius with me and to shero Kate Bahn for introducing me to this concept and for continuing to be the radical, feminist, punk rock economist and wonderful friend that she is.
****Note that this is not a quantitative study but just my initial reaction to reading the article. Of course, we cannot assume gender based on name (look at mine!), nor can we assume that the authors selected names that corresponded with the gender identity of the participants.
*****But does this boss really care about her or just care about her productivity? Do any of under late stage capitalism? Damn the man! 😉